Support to West African Postdoctoral Diplomas of Paediatric Surgery in Senegal, Togo, Benin, Burkina Faso, Guinea Conakry, and Ivory Coast
Western Africa
Update: The latest seminar was held in Dakar (Senegal) in the Children's Hospital Albert Royer  and focused on visceral and orthopedic pediatric surgery. (7-12 May 2018)
The Chain of Hope – Europe (COHE), in collaboration with la Chaîne de l'Espoir France (CDEF) and Chaîne de l'Espoir Belgique (CDEB), funds and supports the organization of teaching seminars to west african future surgeons specializing in pediatric surgery.
This seminar is part of the teaching program of pediatric surgery in West Africa (Diplôme d'études supérieures en chirurgie pédiatrique = DES-CP), supported by the CDEF since 2014. The universities of Abidjan, Lomé, Cotonou, Ouagadougou, Conakry and Dakar offer this cursus, which is recognized by the African and Malagasy Council for Higher Education (CAMES) and whose curriculum is harmonized by the West African Health Organization (WAHO).
The Paediatric Cardiac Surgery Department - Fann Teaching Hospital in Dakar Senegal
Dakar, Sénégal
In 2004, La Chaîne de L'Espoir (France) equipped a specialised cardiovascular and thoracic centre built by the Senegalese government at the Fann National University Hospital. Today, joined by its Italian and German partners, Bambini Cardiopatici Nel Mondo and the RobinAid Foundation, a new centre's construction is underway to provide the growing number of children in the region suffering from serious heart disease access to paediatric cardiology and paediatric cardiac surgery.
The French Medical Institute for Children in Kabul Afghanistan
Kabul, Afghanistan
Opened by La Chaîne de L'Espoir (France) in 2005 and supported by the RobinAid Foundation since 2009, the French Medical Institute for Children in Kabul aims to provide treatment to the greatest number of children and, above all, to share skills and know-how with Afghan colleagues. An additional partnership with the Aga Khan Development Network, volunteers and local teams has led to an increase in the hospital's activities requiring the construction of a new wing dedicated to gynaecology and obstetrics which will become the Mother and Child Centre.
Furthermore, a new adult cardiology department will open in May, 2015.
The surgical team training programme in Iraqi Kurdistan Erbil/Hawler, Iraq
Iraqi Kurdistan, Erbil, Arbil, Iraq
In the Middle East, La Chaîne de l'Espoir (France) aims to provide intensive care and advanced paediatric life support as well as train local staff to complete complex surgical interventions. Several cardiopaediatric surgical missions were already undertaken independently by Bambini Cardiopatici nel Mondo and by La Chaîne de l'Espoir (France) in Kurdistan. La Chaîne de l'Espoir (France) recently organized an evaluation/audit mission which build the basis for training programmes to be launched by Chaine de l'Espoir / Chain of Hope – Europe in the coming months.
The Maputo Heart Institute, Maputo, Mozambique
Maputo, Mozambique
In 2001 the Maputo Heart Institute was founded by La Chaîne de l'Espoir (France), Chain of Hope (UK) and Cadeia da Esperança (Portugal). As of 2013, more than 300 children had received care on 14 consecutive cardiology and cardiac surgery missions led by Prof Manuel Antunes. Since 2013, Dr Leitão Marques, the former president of Cadeia da Esperança (Portugal), has been running the institute's catheterization laboratory. They also organise and finance transfer of the institute's patients in need of advanced treatment, including surgery, to Coimbra, Portugal. Coimbra has also served as a training base for Mozambican doctors, nurses and technicians.
Cairo University Children's Hospital Cairo, Egypt
Cairo, Gouvernorat du Caire, Egypt
RobinAid and Bambini Cardiopatici nel Mondo, present in Cairo since 2005, collaborate on a project supporting cardiac surgery at Cairo University Children's Hospital (Kasr El Eini) as well as at the Police Authority Hospital in Cairo. They focus on complex heart defects and neonatal cardiac surgeries.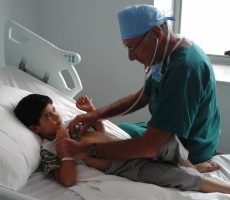 Syrian children refugees - Humanitarian surgical missions in Jordan
Amman Governorate, Jordanie
According to the Office of the United Nations High Commissioner (UNHCR), more than 4 million people, including a large number of women and children, have fled Syria since March 2011, date of the beginning of the conflict. The vast majority of refugees are in Jordan and Lebanon where they live in precarious conditions and do not have access to the healthcare that they urgently need.
La Chaîne de l'Espoir-France has set up a medical-surgical assistance program composed of surgical missions in favor of:
– children with cardiac pathology who don't have access to surgical care due to the lack of financial resources.
– children with sequels of gunshot wounds, injuries resulting from
amputations as well as thoracic and cerebral trauma. Children with congenital malformations are also supported.
The mission staff is composed of specialists coming from various European countries brought together through the network of The Chain of Hope-Europe.
The 2016 program of la Chaine de l'Espoir, financed by the European Civil Protection and Humanitarian Aid Operations (ECHO), is implemented in partnership with the Syrian Expatriate Medical Association, in charge of recruiting patients and the follow-up of operated children during missions. The missions take place in the Gardens Hospital and the Al Makassed Hospital, both located in Amman.
https://twitter.com/ECHO_MiddleEast/status/928581357583917057
https://twitter.com/AndreaFontanaEU/status/928585041298501632